Back in the day, I used to ride my bike a lot. Like, every other weekend I'd be off on a 60, 80, or even 100km ride (my personal maximum). But after having a kid and getting busy with other projects, my bike riding took a back seat, and I only tended to get out once every six weeks or so.
It's amazing how quickly your stamina drops off, because these days, I can barely manage to get up to 40k without wanting to pack it in. Granted, this is based on recent rides during the punishing summer heat, but still – my legs ain't what they used to be.
That being said, I was psyched when the lockdown provided the opportunity to get out on some quiet weekends, because, well, what else was I going to do?  I also recently bought a GoPro, which I promptly mounted to my handles, and decided to give people stuck inside the opportunity to live vicariously through me, and go for a bike ride in Bangkok.
Note: Please ignore the lockdown beard. It is now gone, much to the relief of my wife.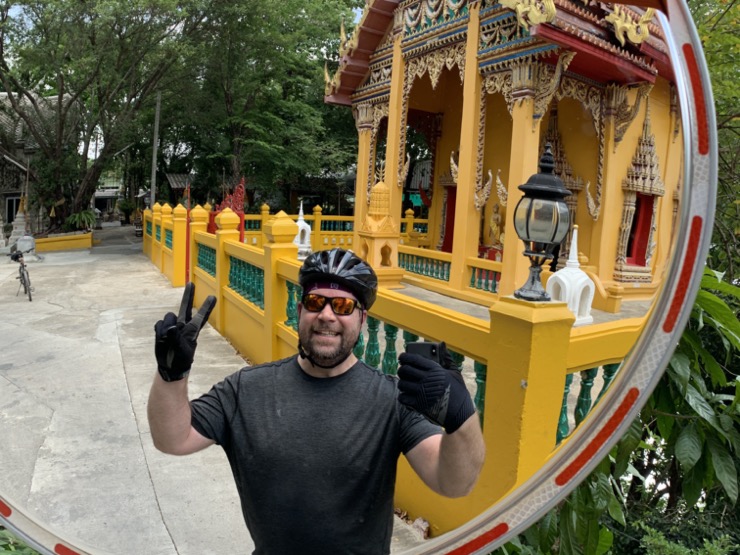 Cool selfie, brah. At Wat Kho (วัดเกาะ)
This is one of my favorite routes, from the Artist's House up to Wat Koh. Some great local communities back here, and friendly people who mostly ignore you when you ride through, and maybe smile a bit. "Crazy foreigners, don't they know how hot it is?"
This is another great ride, from Wat Kanlayanamit, down the river, and through some awesome back sois, past the famous Din Daeng market (which didn't seem to give a toss about any lockdown or pandemic, save for the masks). I finish at IconSiam, which was closed at the time of this ride. Boy, that looks strange. Love this leg of the ride.
This one's a bit longer – indeed, for one rather long, straight stretch of road in the middle, I sped up the video a bit – but still a good ride. Out in Bangkok's western suburbs there's a lot of green space, but it's slowly disappearing as new buildings go up. I hadn't done this ride in quite a while, and was shocked to see so many previously open spaces filled with finished buildings. Bonus appearance by a great stretch of khlong pathway, and Thailand's biggest speed bump.