Keeping on top of Thailand's ever-changing visa and work permit regulations can be a pretty tiring job. Rules often vary from office to office and border crossing to border crossing, and updates, amendments and changes to the rules and overall system are hard enough to find in Thai, let alone English. Thankfully, there's a small army of dedicated locals who like to post no-bull advice on their experiences, and this is the gist of this post – a visit to the One Stop Immigration office at their new location on Rama IV Road.
 I'm writing solely from my own experiences, so I'm sure there are plenty of details that I'm missing and/or don't know about; please leave a comment if any of this sounds off. To the best of my knowledge, the only two immigration locations that have ever really mattered were the one on Soi Suan Phlu, and the One Stop location on Pahonyothin Road (which moved from Ratchadaphisek Road in 2007). However, both locations have now moved.
The location on Suan Phlu was, for some reason, moved all the way out to Chaeng Wattana, which is approximately nine thousand miles from any area where foreigners would be in Bangkok. There's a good post about a visit to the gargantuan place here. I haven't been to this new location, but the old Suan Phlu location was where… how to say… 'regular' folk went. Full of hungover backpackers, confused tourists and nationalities from all over the world, it was a pretty chaotic place to visit, and I don't expect the new place to be any different.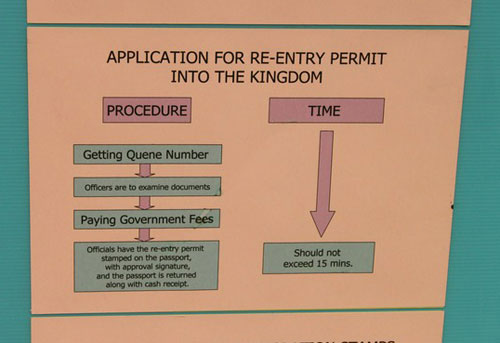 In contrast was the One Stop location, which was newer, cleaner, and generally filled with white collar expats who, with the aid of a translator/lawyer/indentured minion, were applying for or renewing work permits. I'm surprised, actually, at how many people don't know about the One Stop service shop – once I went there, I never went back to Suan Phlu.
At any rate, the One Stop location moved again on January 4, against all odds to a totally logical and convenient place – Chamchuri Square, close to the MRT, BTS, Siam Square, and major road networks. I had to get a re-entry permit for an upcoming trip to Vietnam, so I headed over and was happy to see that it was as good, if not nicer, than the old place.
The 18th floor office is open and airy, with that new-office smell and plastic coverings still on much of the furniture. To start, there's a lot more places to sit, which is good, and there were signs proclaiming free wi-fi, which is a nice touch – if you're there for more than 30 minutes, it will be nice to be able to get some work done on a laptop (I didn't ask details on time limits, etc). I rolled in at 8.10am, was given a form to fill out when I asked at the counter, and told to wait until 8.30. By 8.40 I was paying the cashier (1,000 baht) and on my way to work by 8.50.
The only scary part was when the woman asked suspiciously where I lived in Bangkok, as there are vague regulations requiring you to use the services of the immigration office in your home distrcit. I told her where I lived (close by) and she said okay. Then I asked her if anyone in Bangkok can use this office and she said yes, although I wasn't 100% sure understood me. I didn't want to push my luck and start reiterating things; I try to avoid questioning immigration officials who are holding my passport, and besides – I was late for work.
It seems like a good move, overall. The queue numbering signs and intercoms weren't working (at least when I was there) and there's a few more things to be cleaned up and put away but it seemed the move went pretty smoothly. I'm sure there will still be long lines, plenty of hoop-jumping and enough conflicting information to give Columbo a headache, but that's the norm in any government office anywhere in the world.
The address is: 319 Phayathai Road, Pathumwan, Bangkok, otherwise known as Chamchuri Square on Rama IV Road. Every taxi driver should know it.