In 2004, my good friend Scott convinced myself, Dan, and Derek to take part in the vertical marathon, a yearly charity event wherein they somehow convince people to pay for the privilege of climbing up the stairwell of the Banyan Tree Hotel, a 64-storey hotel on Silom Road.
I joke, but it's actually for a good cause, and an interesting challenge to one's physical fitness; most anyone can walk or run – some faster/further than others, of course – but climbing stairs ain't easy. There's a reason that doctors use a single flight of stairs as a fitness test for victims of heart attacks.
So, a few months ago I got a call from Scott again, asking if I'd be interested in another go. Despite a gap of 14 years (and probably close to 14 kilograms), I thought it would be fun to do again, and again for a good cause, this time the Thai Red Cross HIV Formula Feeding Fund. I paid the 400 baht registration and promptly forgot all about it until a few days ago.
Despite spending two nights in the hospital last week, I found myself at the Banyan Tree Hotel at 7am Saturday morning.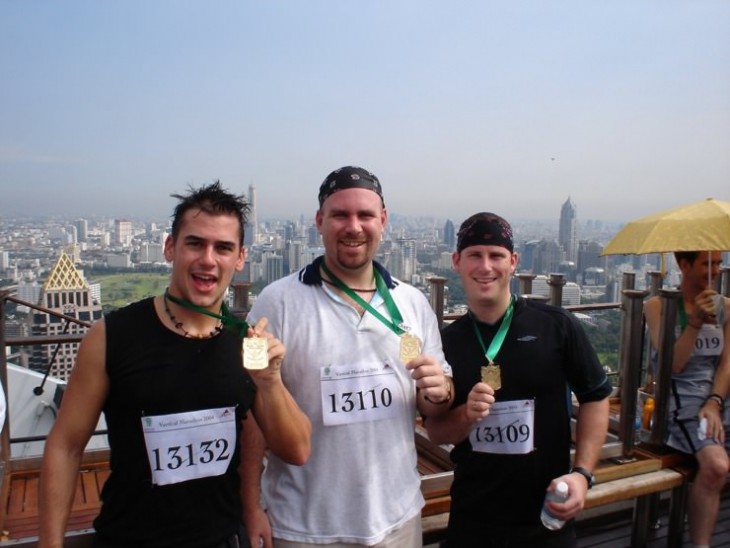 Dan, me, and Scott at the top in 2004. Look at all that svelte youth.
The Banyan Tree is a tall, skinny building, most notable for Vertigo, one of the OG swanky rooftop bars in Bangkok, which provides a great view down the axis of Rama IV road, and further down toward the river along Silom.
I didn't do a count, but I'd say there were around 300 people there? 350? A lot, and let me tell you, a great majority of them were younger, fitter, and much better looking than I was. Thankfully, most of those young, fit, pretties belonged in the 18-35 category, so at least I had the excuse of belonging in the 36-49 age bracket. It's not much, but I ran with it.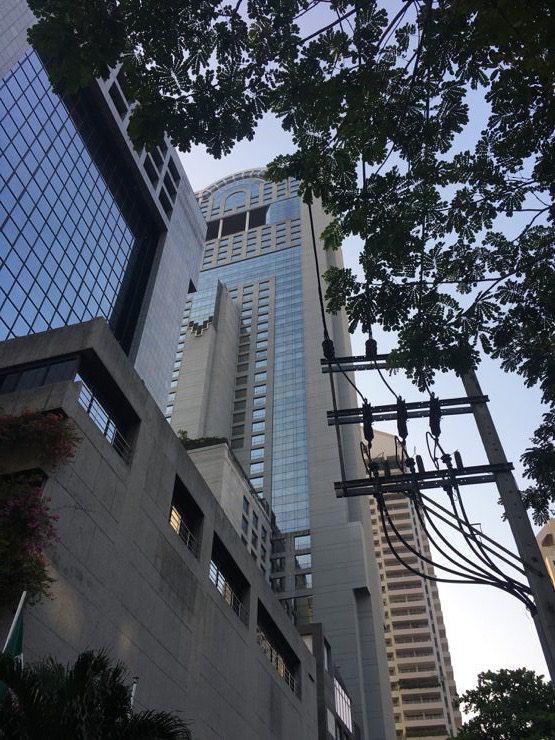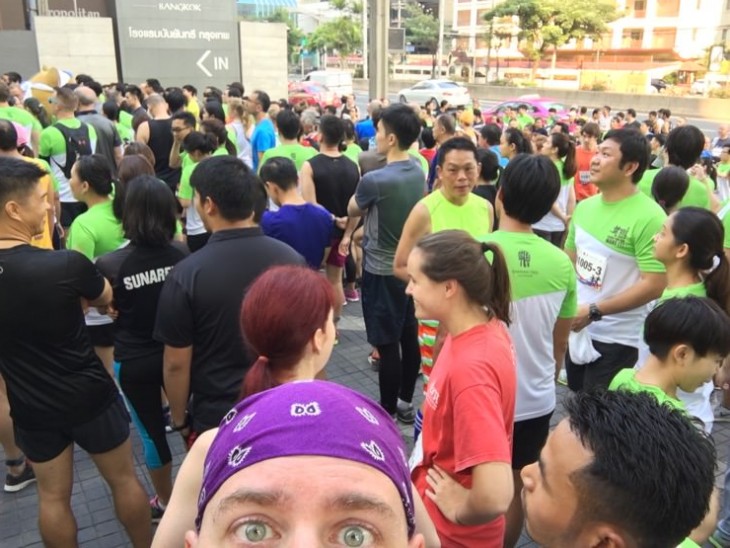 They lined us up 10 at a time and off we went, jogging to the base of the building about 100m away and then – into the stairwell for the climb up.
I made a mistake 14 years ago, which was to vastly overestimate my stamina. Back then I started off taking 2 steps at a time, but by the time I reached the 20th floor, I was a mess.
This time I took a cue from Scott – one step at a time, slow and steady.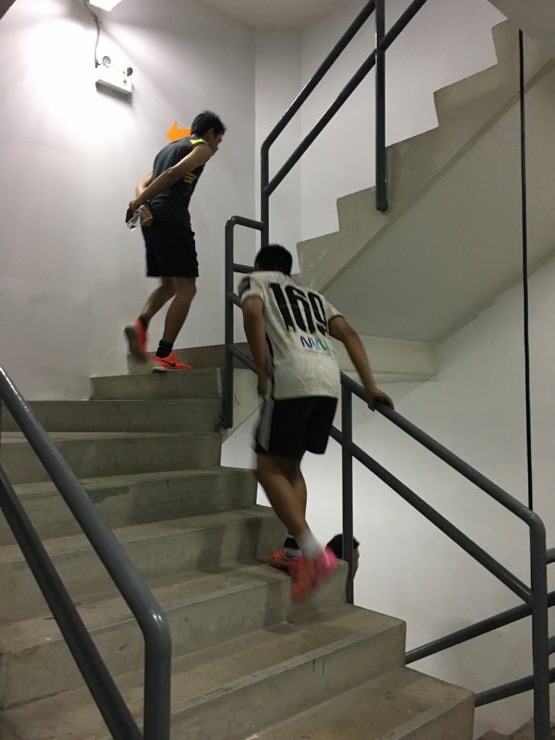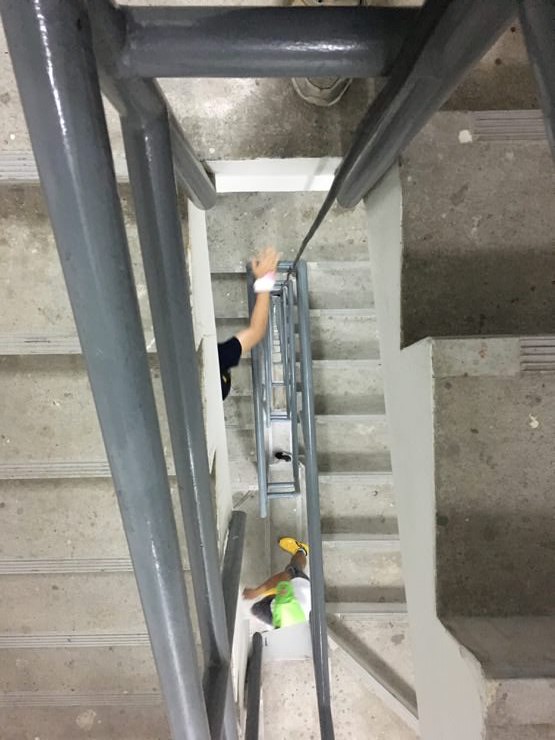 I mean, there's not a lot to write about. You just…climb, round and round and round you go.
By the time I reached the 20th floor I was huffing pretty well. By the time I reached the halfway mark – the 32nd floor – I was taking a 1 minute break every 5 floors or so. By the time I reached the 50th floor, those breaks had become 3 or 4 minutes.
At this point, it wasn't a race – I was just trying to finish.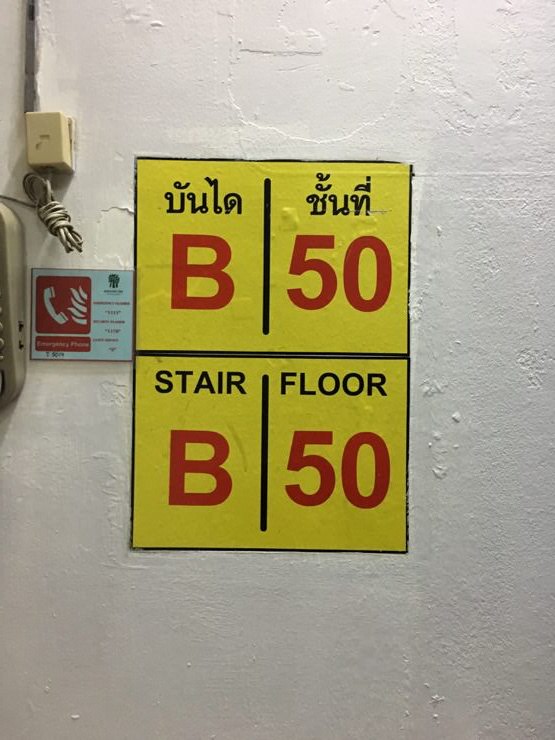 Almost…there…
And then finally, I saw sunlight. I rounded the corner, went up a ramp, up another final set of stairs, and then crossed the finish line. Scott high-fived me as I passed him – he had made it up in around 12 minutes, clearly in much better shape than me.
But no matter – I finished! Sweaty, woozy, and very out of breath, but I still made it.
In 2004 I did the climb in roughly 19 minutes. This year I was significantly slower, finishing in just over 30 minutes, 123rd out of 165 men in the 36-49 bracket.
Guess it's time to get back on that treadmill. Thanks Bangkok, for still providing some pretty neat events to take part in.
At least the view from the top was a good one.