When you come to Thailand on a vacation, you hope that your trip will be smooth sailing. No problems, no hiccups, no wrinkles…just your itinerary the way you planned it. That's usually what happens – but not always. A few weeks ago a visiting group of friends had what you'd call a problem…and a hiccup, and a wrinkle – all on the same night! Thankfully, with the help of modern technology – and especially a few friendly Thai policemen – we were able to rescue them from what could have been a very long and very bad night.
My very good friend Nezar – who had lived in Thailand for several years but moved away a few years back – was in town with a few friends on vacation. They had headed up north for a few days and were riding motorbikes in Mae Hong Son province, a beautiful, mountainous, heavily-forested area on Thailand's border with Myanmar. Nezar had worked in the area previously, so I knew the gang was in good hands.
And that's when I got the call from Nezar, about 10pm.
"Hey man. First of all, we're all safe. But…uh, we have a bit of a problem and I was hoping you could help us out."
And then he sent this video:
Some really good horror movies have started this way.
Turns out Nezar and his crew missed a turnoff, and instead of heading up towards Mae Hong Son on the easy route they were familiar with, they ended up on a strange road that took them on an unfamiliar – and much longer – route. They had kept riding until the sun had set, hoping that the next turn would bring them to their destination until – BAM – Nezar's tire had gone flat. And that's when they called me.
I was in Bangkok at the time – where I usually am – and so would be of limited help, so I asked Nezar to send me his GPS location using WhatsApp, his preferred messaging app. What's that? Why didn't they use GPS to get to their destination? Yes, I asked that too and was told they had read it wrong, so…lesson learned.
At any rate, this pic from Google Earth shows you where they were. Khun Yuam Agriculture office at the top of the picture is located in Khun Yuam, 20km away, the nearest town of any size…which isn't saying much. Note the Burmese border on the left side of the picture.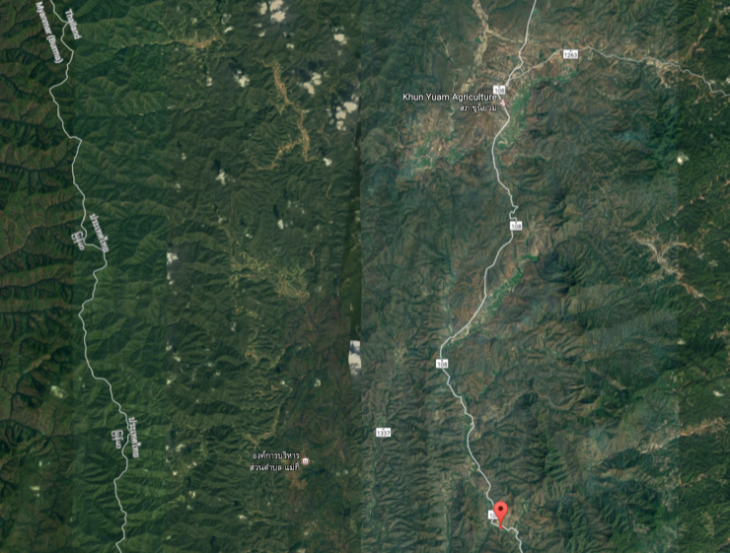 A hotbed of photosynthesis rather than activity.
Nezar said they were literally in the middle of nowhere, with a few scant farms and huts around them housing who knows what or whom, and they didn't feel like knocking on a stranger's door late at night asking for help. There wasn't much I could do so while I was texting back and forth to Nezar, my wife was on the phone looking up the phone number for the police station in Khun Yuam. A few quick calls later and she was using LINE to text back and forth with a very friendly police officer who jumped in his pickup and headed out to find my lost – and by this time very cold – friends.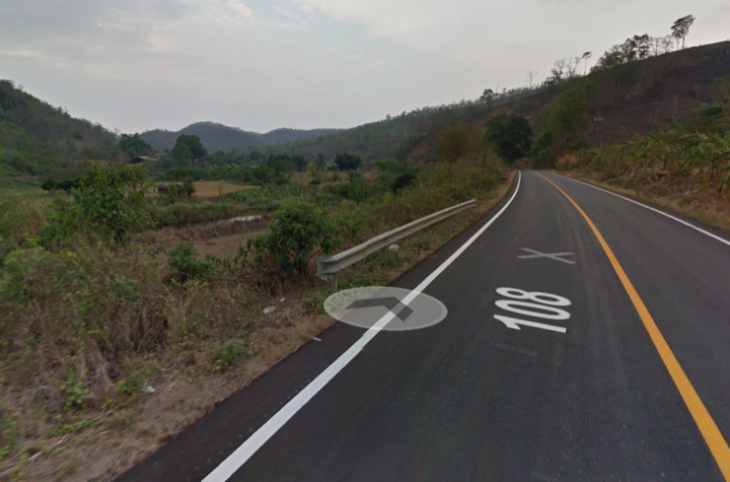 Google helpfully provided a picture of the area they broke down. Three decades of "You can sleep in the barn but don't touch my daughter" jokes come to mind.
I sent Nezar's GPS location to my wife, who sent it to the police officer. I then got Nezar to join LINE and before you know it, all three of them were chatting in a group – my wife acting as a translator – about the folly of getting lost in the middle of the jungle at nighttime. Thirty minutes after our first call, Nezar, his friends, and their bikes were being driven into town in the back of a pickup. Once there, the police woke up the owner of the town's sole hotel, who came down and unlocked the place so the tired and lost farang had somewhere to stay for the night.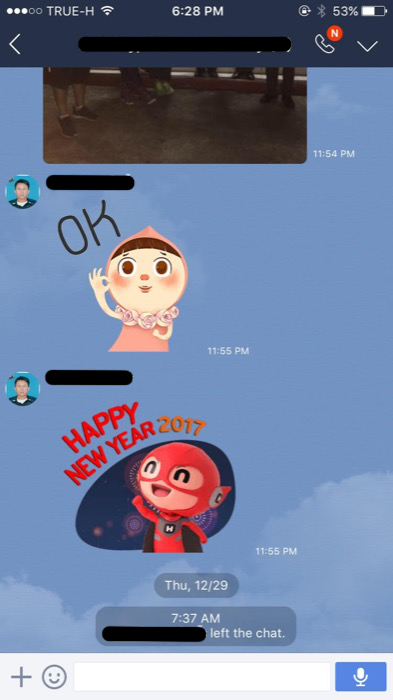 The ridiculously cute manner in which the police officer signed off after refusing any payment.
Despite being offered a sizable chunk of Thank You money, the police officer and his friends who helped refused it outright, which is so Thai it just makes you go "Awwwwwwww." The next day Nezar and his pals got the bike fixed, and were on their way – in daylight, and with a better understanding of the route ahead, methinks.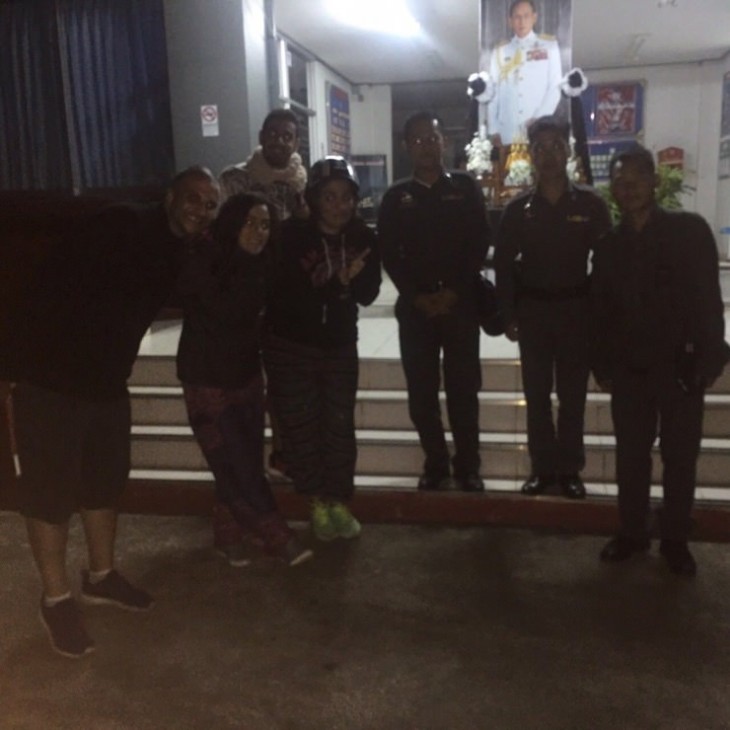 The gang and their saviors. Correct lighting isn't something you think about at 2am after getting lost in (probably) haunted jungles.
So all was well that ended well. It was a great example of several different elements of life in Thailand – the two most obvious being how deeply technology has penetrated even to the most remote corners of the country, and how kind and helpful Thai people are.
Take note kids – if you're riding bikes in Thailand – or anywhere for that matter – don't try to bite off more than you can chew.