In May of 2010, my friend Tony Joh and I stuffed ourselves into a hot, tiny little room in the back of a friend's office, set up a few beat-up old microphones, and hit record on a laptop. It was the beginning of the Bangkok Podcast, and we had no idea if it would be successful or not, or if we'd even enjoy it or not. Luckily, it panned out, and over the next few years we did a weekly show that allowed us to meet monks, journalists, celebrities, politicians, and scholars, among others.
It was great fun, but when Tony moved to Tokyo and I got busy with a new job and married life, we pulled the plug. However, as of November 2016, the Bangkok Podcast is BACK, BABY!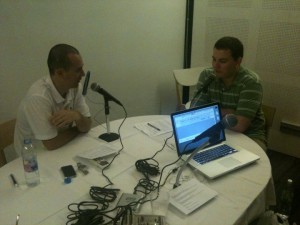 Recording with Rikker Dockum, our linguistics expert. It was a fairly spartan studio we had.
I was introduced to Evo Terra a few moons back, who has been podcasting since the format was born. We got to talking, and decided that Bangkok still had plenty more stories to tell, so we dusted off the old website, Facebook page, and Twitter account, set up some fancy new podcasting tech that wasn't available when Tony and I started the show, and got to work.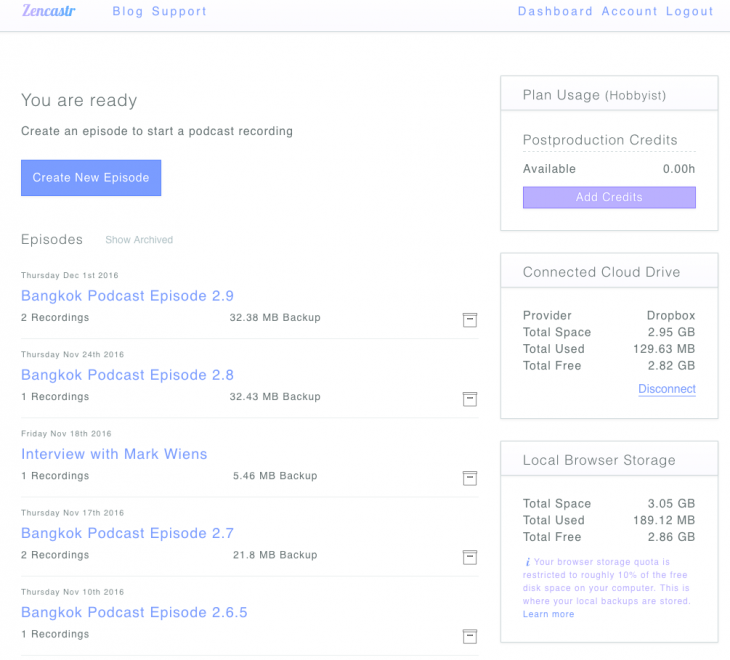 We use Zencastr to record – a really cool web interface that lets us connect hosts and guests, use sound effects, and other cool tricks. I wish this existed during season 1 of the podcast.
The response so far has been positive, although we're only 9 episodes in at the time of this writing. But more than that, it's fun to be back on the air. Creating content is a unique type of high, especially when you're like me and enjoy the tech side of putting a show together, as well as hearing your own voice. Haha, just kidding. No I'm not.
Hopefully we can keep going for a long while. We have some cool ideas for shows, some interesting guests lined up, and a few neat topics we'd like to get into. We also have a regular feature we call Love, Loathe of Leave where Evo and I discuss certain standout elements of life in Bangkok and how they make us feel. The fun part is that each of us springs his topic on the other with no previous knowledge of what it is.
To edit I use Hindenburg, which was created specifically for radio editing. I really love it so far, it works great.
To listen to the show you can head to BangkokPodcast.com and click on the individual episode, click the link in Twitter or on our Facebook page, or subscribe using your preferred podcast app. I like to use Overcast, which works beautifully, and is much more enjoyable to use than the Apple podcast app.
If you'd like, leave us some comments on the website, and we'll hopefully be talking to you in your ear holes real soon!