Like most long-term expats in Thailand, I have a Thai wife. Other people have Thai husbands, boyfriends, girlfriends, special friends, significant others's's, or whatever label you want to sling at it. Point is, a lot of expats are sharing their life in Thailand with a Thai partner, which is great. I've previously written about the challenges that inter-cultural relationships can bring, but I was talking to a friend the other day and managed to 'formalize' my thoughts on yet another challenge we face daily (using Bangkok as an example): the difference between what you're getting out of Bangkok, and what your partner is getting out of Bangkok.
Me: Woo hoo! Wife: Ugh.
Part of the reason this here blog exists is because – despite being here for 17 years – I still love Bangkok. I've been up, down, left, right, in, and out of most places, but there's always one more thing to see, or a different way to see something I've already seen. Of course, there are many things that drive me mad, but I love it, and every day is an adventure.
But an important part of living here with a Thai partner is that you must realize one thing – just because it's an adventure for you, does not mean it's an adventure for them.
Activities as mundane as riding a motorcycle taxi, buying street food, or going for a swim in my condo pool lined with palm trees are still crazy awesome to me.
Despite my familiarity with Bangkok and Thai culture, every time I step outside it's a bit of an adventure. Activities as mundane as riding a motorcycle taxi, buying street food, or going for a swim in my condo pool lined with palm trees are still crazy awesome to me. A quick trip down to Ko Samet – arguably the laziest island vacation you can take from Bangkok – is a really cool excursion. Sure, been there, done that a million times, but where I grew up, the very idea of being that close to a tropical beach is what we dreamt of. Seeing monks wandering around, visiting a temple, going for a jungle hike, browsing a 'not many foreigners come here' market – each of those things is what makes living in Thailand an amazing experience.
At least, for most foreigners. But to your Thai partner, many of these things will likely elicit yawns and eye rolls.
Booooooooooring
I can't speak for everyone, but personally, living in Thailand satisfies the need I have for a bit of adventure. Even if my day job is not that much different than what I'd probably be doing if I'd stayed in Canada, it's at least built on a base of exoticism and everyday adventure that I can easily tap into. My wife, however, cannot; at least not to the same extent.
For her, riding a motorcycle taxi, eating street food, or looking at palm trees is how she's been doing it her whole life. There is no exoticism there, nothing unusual or adventurous. To be clear, she's perfectly happy in Bangkok, but daily life doesn't scratch the same itch for adventure that it does for me. It would be like me getting excited at the thought of attending a square dance at the Calgary Stampede. For my wife, it would be a very unique cultural experience. For me, it..I think I just threw up in my mouth a little.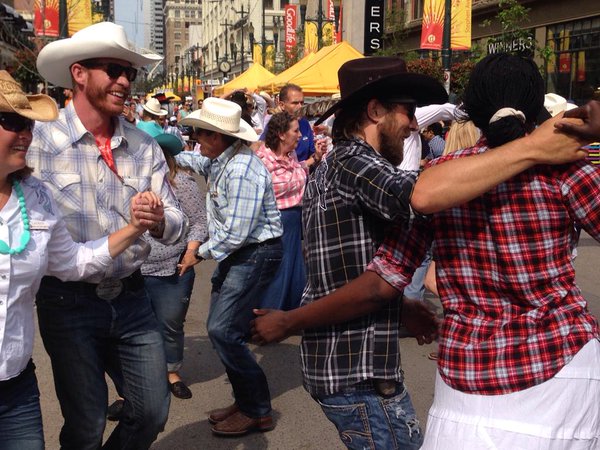 Please just kill me before they ask me join in.
I don't really have a grand thesis on this or anything, but it's something to keep in mind when you move to a new culture and end up with a local. For a long time I assumed that any Thai partner I had loved living here as much as I did, but in reality, many of them were probably as bored as I was when I was in Canada.