I've written before about how Thonburi is the 'uncool' side of the river, often called Bangkok's Brooklyn or the hipster side of the river or some other cutesy term. It's a title not entirely unwarranted, as it's quieter here, cheaper here, less developed here. If you want thumping clubs, big hotels, hot restaurants, and exciting nightlife, yeah…don't come to Thonburi.
But that reputation won't last long. There are big malls being built, a planned BTS extension, and cool new restaurants and coffee shops popping up all the time. While I like quieter pockets of the city, I'm also a fan of modern amenities and cool things to see and do, so yeah…I'm (mostly) on board with the development of this side of the river.
On that note, I was excited to finally hear that Thonburi's newest attraction is now open, Lhong 1919. I was even more excited to get a private tour before it opened to the public, and even more excited to get invited to the grand opening. Like most of Bangkok, it's all who you know.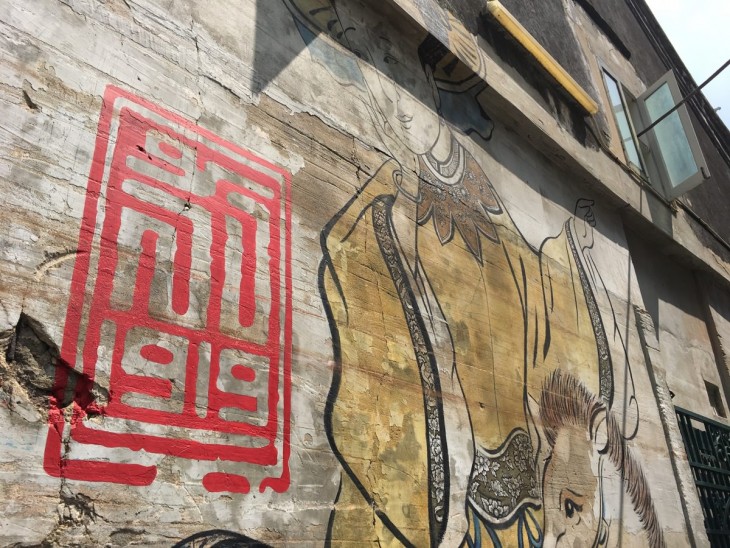 The entrance to Lhong 1919. The red square looks Chinese but it actually says Lhong 1919″ in Thai.
I was lucky to get an invite to Lhong 1919, which opened as a steamship terminal in 1850. I've ranted on Twitter and on the Bangkok Podcast before about what shame it is that many of Bangkok's nicest old buildings are being demolished to build new structures without any regard for the history that's being erased, which is why it's doubly-nice to see a project like this one.
Saran Wanglee, who was overseeing the renovations, was kind enough to show me around, explaining that he could easily have demolished the place and and made a killing by putting in a parking lot, but his family decided it was more important to preserve it, both as family heirloom and as an important piece of Bangkok's early days. It's a mixed-use space, with shops and restaurants chosen for their uniqueness, and meeting spaces that offer something nicer than a drab hotel conference room.
This is refreshing to hear, because I'm really tired of places that try to look old but are actually new, like the lame Yodpiman Market, just up the river. They took a beautiful old building, gutted it, then rebuilt it with new materials designed to look old, and shoved in a KFC and a Starbucks. I like sitting in a Starbucks as much as the next guy, but ugh.
It's a really beautiful facility overall, and the Wanglees are clearly proud of the place. The original stone work on the walls is used, as are the original murals and art that they found afters scraping off decades of paint and plaster and dust. The paving stones that line the pathways are Chinese, used as ballast in ships that came from China, and left here when they returned home with bellies full of rice.
Bangkok must be the biggest city in the world with vast swathes of its riverfront property hugely underdeveloped.
It really is a mystery why there aren't more places like this up and down the Chao Phraya River. Bangkok must be the the biggest city in the world with large swathes of its riverfront underdeveloped or ignored. A boat ride up or down the river will reveal countless properties that date back to the city's early days that are just left unused or ignored.
But adding a few million tons of concrete to the riverfront in a city that's already sinking probably isn't a good idea either. Well…I guess we'll just go back to getting around on boats like they did in the good ol' days.
At any rate, it was a pleasure to be shown around Lhong 1919. I followed it up a few days later with a visit to the grand opening, and it did not disappoint. The free food and booze helped, but it was a gorgeous place all lit up at night.
I hope it does well, and encourages other property owners to really think about how to develop their holdings. They might make more money building a condo or hotel, but the long-term benefits of a well-preserved heritage site to Bangkok, Thailand, and Thais and visitors alike are impossible to put a price on.
Here's a cool video on the history of the place for those who are geeky about this kind of thing.